Outlaw Series DA Integra Spherical Rear LCAs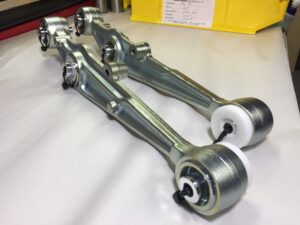 *** $70 refundable core charge already included in price. *** The Outlaw Series DA Integra spherical rear lower control arm (LCA) conversion utilizes aerospace quality NMB (Minebea) bearings in all 6 pivots. CNC turned 4140 HT steel sleeves are pressed into the LCAs and tig tack welded for redundancy. Bearings are retained via interference and retaining compound. As always, shoulders are used on the ID and OD of the bearing sleeve to further reduce any chance of disassembly and a c-clip provides additional redundancy in bearing retention. 7075 AL is used for the bearing spacers.
The DA rear LCA application also includes delrin shims that install around the forward facing spacers at the inner pivot points. The issue with DA Integra cars when running sphericals is that the rear sway bar will rotate the rear LCA on corner entry until the bearing sleeve contacts the bearing spacer. This causes some strange handling effects and occurs because the rear LCA is not triangulated. ie. There is only one inner pivot point for the rear LCA whereas there are two inner pivot points for the front LCA. Most, if not all, DA rear LCA spherical conversions do not address this issue. Our delrin shims still allow the rear suspension to freely articulate and retain the benefits of very low stiction and deflection that a spherical bearing pivot provides. However, the delrin shims limit the rotation of the LCA to a degree or two while their excellent slip and wear characteristics induce negligible friction/stiction. Delrin shims are also used at the rear of the shock mount sleeves to limit the motion of the shock fork and provide a low friction surface on which the bearing spacer can ride.
Bearing Technical Specifications – NMB ABWT10
– Ultimate Static Radial Load: 58,500 LBS.
– Ultimate Static Axial Load: 9,195 LBS.
Note: A $70 core charge refund is offered on OEM core exchanges for this product and is already included in the price.