Honda S2000 Spherical Front UCAs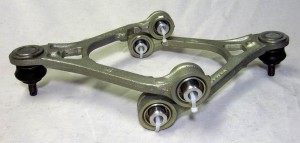 The S2000 spherical front upper control arm (UCA) conversion is a completely custom conversion requiring the customer to provide and ship us control arms. We have tried sourcing S2000 arms but they just can't be sourced economically.
As with all of our arms, first the OEM bushings are pressed out and the arms are then bead blasted to bare metal. Next, our CNC turned 4140 HT steel sleeves are blueprinted to and pressed into the arms. The sleeves are then tig tack welded to the arms for redundancy and the arms are sent out to be zinc plated for corrosion resistance. Finally, the bearings are blueprinted to and pressed into the bearing sleeves to ensure low stiction for unsurpassed performance. The bearings are retained in the bearing sleeves via interference and Loctite 609. As always, shoulders are used on the ID and OD of the bearing sleeve to further reduce any chance of disassembly and a c-clip provides additional redundancy in bearing retention. Our bearing spacers are CNC turned from expensive but strong and lightweight 7075 AL.
Bearing Technical Specifications
Aurora COM-10T
– Radial Static Limit Load Capacity Lbs: 30,500
– Axial Static Limit Load Capacity Lbs: 4,720
Kingpin Machine has partnered with BlackTrax Performance for all of our S2000 sphericals. All components are manufactured by Kingpin Machine and BlackTrax Performance performs blueprinting and installation service.
Order Now or direct inquiries to: Info@blacktrax.net