DC Integra/EG Civic Spherical Front UCAs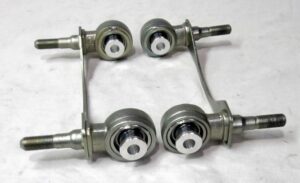 *** $70 refundable core charge already included in price. *** The DC2 Integra/EG Civic spherical front upper control arm set is SCCA IT legal since it uses the factory mounting bracket for the conversion. Sleeves are retained in the OEM "eyelets" through a combination of interference fit and tig tack welding for redundancy. The sleeves have a shoulder on one side and are installed with the shoulders opposed as an added measure of safety. The bearings are retained via a combination of interference and Loctite 609. A c-clip provides an additional safety factor and an ID shoulder is utilized again in opposing fashion. Sleeves are machined from 4140 HT (a medium prehardened alloy steel) and spacers are machined from 7075 Aluminum (an aluminum alloy that is harder and stronger than mild steel).
The standard set uses Aurora COM-9T bearings. An upgrade to the NHBB Racing Series bearing is offered at additional cost. However, in this application the loads do not really warrant the higher end bearings we use in LCA applications.
Bearing Technical Specifications – Aurora COM-9T
– Radial Static Limit Load Capacity Lbs: 16,630
– Axial Static Limit Load Capacity Lbs: 20% of above or 3326
Note: A $70 core charge refund is offered on OEM core exchanges for this product.