DC Integra/EG Civic Compliance Bearings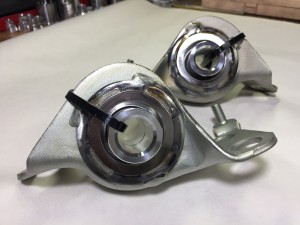 *** $40 refundable core charge already included in price. *** The DC2 Integra/EG Civic compliance bushing conversion replaces the large imprecise stock rubber bushing with an Aurora spherical bearing. The bearing is located in a steel sleeve tack welded to the housing and captured with a steel bearing retainer also tack welded in place. Four aluminum spacers are included with the conversion to precisely locate the assembly on the arm. Designed such that the large stock washers can be discarded.
Bearing Technical Specifications
– Radial Static Limit Load Capacity Lbs: 41,960
– Axial Static Limit Load Capacity Lbs: 20% of above or 8392
Note: A $40 core charge refund is offered on OEM core exchanges for this product.