DC Integra/EG Civic Complete Front LCA Caster Offset Spacer Set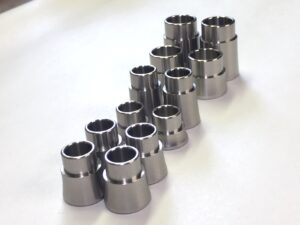 Caster offset spacer set for the DC Integra/EG Civic front lower control arm (LCA) including offset compliance bearing spacers. This complete set of front LCA bearing spacers offsets the entire front LCA .255″ forward while also providing offset compliance bearing spacers. Replacement front LCA shock mount spacers are also provided. The spacers are machined to obsessively tight tolerances from 303 stainless steel.
I have decided to move from 7075 AL to 303 stainless for bearing spacers because frankly the 1200-1800 WHP (and always increasing) drag cars terrify me. It is important for my peace of mind to keep up with their evolution and allow the benefits of that progression to trickle down to my entire program. I am so far eating the dramatically increased tooling cost and somewhat increased material cost because I believe in constantly upgrading the product. All Kingpin Machine products will now come equipped with 303 stainless bearing spacers for improved corrosion resistance and dramatically improved strength and hardness unless otherwise requested.
The following components are included in the set (as pictured above):
4 ea. front LCA shock mount spacers
2 ea. front LCA max caster shortened inner spacers (forward facing)
2 ea. front LCA max caster lengthened inner spacers (rearward facing)
2 ea. shortened compliance bearing spacers (rearward facing)
2 ea. lengthened compliance bearing spacers (forward facing)